Hearing Products
If a hearing aid or device is necessary for your hearing journey, our experts will guide you to the best solution. We offer the latest hearing technology and products that address a wide variety of hearing loss concerns, helping you reconnect to the world around you.
Hearing Technology
Modern Solutions For All Types of Hearing Loss
Thanks to advances in technology, hearing products are designed to be more compatible with our lives than ever before. In addition to hearing aids, there are a number of products that make living and communicating with hearing loss easier to manage, so you never miss a beat.
Hearing aids are available in many different sizes and styles thanks to advancements in digital technology and miniaturization of the internal components. Many of today's hearing aids are considered sleek, compact and innovative – offering solutions to a wide range of hearing aid wearers.
More on Hearing Aid Styles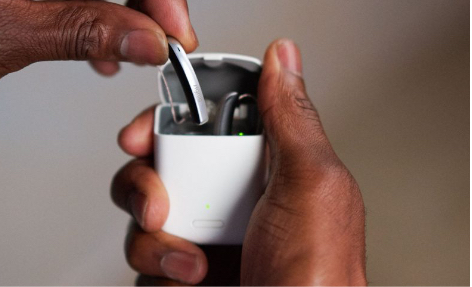 Hearing Product Guide
Curious About Hearing Technology, but Not Sure Where to Start?
With so many styles and options, it can be difficult to know which products will suit your needs. Our Consumer Guide to Hearing Aids provides an in-depth breakdown of the different types of hearing devices, as well as the technology available for all types of hearing loss.
Hearing Aid Manufacturers
Hearing Products Created by the Best in the Industry
When it comes to hearing loss, you need a device you can rely on to perform its best. That's why we carry products from manufacturers with a proven track record of exceptional quality. No matter your budget, lifestyle or type of hearing loss, we have a product to meet your needs.
Hearing Protection
Make Protection a Priority
Protecting your ears from noise damage is essential to healthy hearing. We carry a wide variety of options equipped with the latest features and customizations, so you can find the best fit for your lifestyle.
Custom earmold protection products are available for specialty uses like hunting and shooting, swimming and diving, manufacturing and construction projects, and more. Many products are made from these custom molds that have proven to be the best hearing protection and hearing aid products available.
More on Custom Earmolds and Earplugs
Special products made for musicians provide hearing protection while allowing all the sound frequencies of music to come through to the eardrum. Monitors are custom molds made from a form of your ear and equipped with a hearing device for this purpose. Earplugs act in the same way, allowing frequencies through without the loud volume.
More on Earplugs and Monitors for Musicians
Damage to hearing by loud and concussive noise is one of the main reasons for loss of hearing. The world is noisier than ever and loud venues proliferate. Hearing protection is one way to reduce hearing loss.Hearing protection products include earphones, earplugs and combination specialty products for various uses. One of the best ways to ensure proper protection fitting is to have custom molds made of your ears.
More on Hearing Protection